B2004 - The Science of Being Great - Wattles
Store
> Store Items > Books > Vintage
This Text is produced as a Zipped
pdf
file,
for which a Download Link is given Following Purchase
Public Domain Note
This item has been compiled from material in the United States Public domain.
Consequently, the item's actual content is free;
and any price tag relates to the
cost of gathering, reconstructing, editing, and the online storage of the item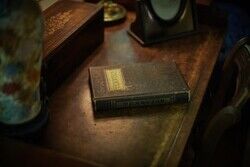 Vintage Books
The Science of Being Great - Wallace D Wattles - 1911 (pdf download)
Immediate availability
Add
Description
In his book, The Science of Being Great, Wallace D Wattles distils the rules of real power and personal achievement.

This book is the companion work to The Science of Getting Rich.

Wattles (1860-1911), a self-professed failure in his early years, began a systematic study of religion and philosophy; and ultimately he developed a unique positive-thought philosophy/thought force methodology of his own.

Originally published in 1911, The Science of Being Great appeals to anyone who feels that they are not making the most of their lives.

We all want to stand out and be in control, and Wattles explains how to live aggressively and with purpose, making ourselves forces that move proactively in the world, rather than being reactive and blown about by life's circumstances.

He championed the Law of Attraction, which proposes that a person's thoughts become, through the universal law of cause and consequence, a manifested reality in the physical world.
Today, this is commonly referred to as the "Power of Positive Thinking".
In his own life, through the application of his own principles, Wattles (1860-1911), overcame poverty and failure, and became an important pioneer of the early self-help movement.
He died a prosperous man in 1911.

Among his other books are The Science of Getting Rich, The Science of Being Well, and How to Be a Genius, which are all commended to the reader.
You might like to explore the 4-D "Revised Thought-Forces"

The Fourth-Dimensional Approach to Personal Transformation (Health, Wealth, Success, Longevity,
and Transformation,
etc) is a blending of 19th Century "New Thought" principles and 21st Century "Non-Nihilistic Esoteric Existentialism".
The materials are revised and converged through radionic channeling into
Lessons
and Applications for the 21st Century seeker of light, life, and truth. Consequently, the presented audio texts/programs are developed through, and in concert with, the collective-consciousness and are reproduced verbatim. T
here are both audible and subliminal voices, under nature and music ambience, to guide your ability to achieve all that you want - Health, Wealth, Success, and Longevity.