B2005 - The Game of Life and How to Play It - Scovel-Shinn
Store
> Store Items > Books > Vintage
This Text is produced as a Zipped
pdf
file,
for which a Download Link is given Following Purchase
Public Domain Note
This item has been compiled from material in the United States Public domain.
Consequently, the item's actual content is free;
and any price tag relates to the
cost of gathering, reconstructing, editing, and the online storage of the item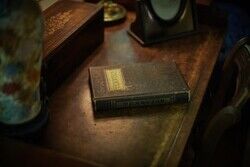 Vintage Books
The Game of Life and How to Play It - Florence Scovel Shinn 1925 (pdf download)
Immediate availability
Add
Description
The Game of Life and How to Play It, by Florence Scovel-Shinn, was first published in 1925, and is reflected in the The Secret by Rhonda Byrne.

This book has inspired countless people, around the world, to find a sense of purpose and belonging; and it remains as relevant today, as when it was written, and reveals that life is not a battle but a game - a game of giving, receiving, and interacting.

And whatever thought-force we project into the world, it will eventually return to us, which means that if we give love, we will be loved; but if we hate we will, in turn, feel hated.

Through that thought-force, which we give and receive, we shape our reality; so it is recommended tht we discover how our mind and its imaging faculty play a leading role in the game of life.
Whatever we imagine, or focus upon, will sooner or later be naturally experienced as part of our world.

This book will show you how you can change your circumstances, leave your regrets behind, and create your own dazzling future.

Florence Scovel-Shinn was an artist and book illustrator by profession, and she alsao taught metaphysics in New York for many years.
She was a popular, friendly and informal teacher blessed with enormous insight.
You might like to explore the 4-D "Revised Thought-Forces"

The Fourth-Dimensional Approach to Personal Transformation (Health, Wealth, Success, Longevity,
and Transformation,
etc) is a blending of 19th Century "New Thought" principles and 21st Century "Non-Nihilistic Esoteric Existentialism".
The materials are revised and converged through radionic channeling into
Lessons
and Applications for the 21st Century seeker of light, life, and truth. Consequently, the presented audio texts/programs are developed through, and in concert with, the collective-consciousness and are reproduced verbatim. T
here are both audible and subliminal voices, under nature and music ambience, to guide your ability to achieve all that you want - Health, Wealth, Success, and Longevity.