B2007 - How to Stay Well - Larson
Store
> Store Items > Books > Vintage
This Text is produced as a Zipped
pdf
file,
for which a Download Link is given Following Purchase
Public Domain Note
This item has been compiled from material in the United States Public domain.
Consequently, the item's actual content is free;
and any price tag relates to the
cost of gathering, reconstructing, editing, and the online storage of the item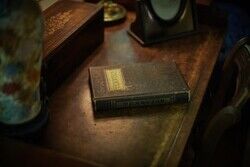 Vintage Books
How to Stay Well - Christian D Larson - 1912 (pdf download)
Immediate availability
Add
Description
T
here are no Incurable diseases!
Christian D Larson says that
There are many systems of healing, and their number is growing steadily, but there is no single system, in existence as yet, that is based on all the laws of life.
Disease comes from the violation of one or more of the laws of life; therefore, it can only be cured by bringing the mind and the body back again into harmony with those laws that have been violated; but if the system of healing employed ignores certain laws, it will be unable to bring the mind and the body back into harmony when those certain laws are violated.
Here we find the real cause of failure in all systems.
A system that is only physical, can only produce cures when certain physical laws are violated, but it is powerless when the malady comes from the violation of moral or mental laws.
A system that ignores all laws, except a few mental laws, may produce cures when it is those few mental laws that have been violated, but when the trouble comes from the violation of other laws, such a system can do nothing.

It is, therefore, simple to understand that a complete system of healing must not only recognize all the laws of life, but must embody exact scientific methods for correcting all the possible violations of those laws.
Such a system must be both physical and metaphysical, and must have the understanding of all the laws of life as its foundation.
That such a system could cure everything is a foregone conclusion, and that it is possible to formulate such a system every thinker must admit.

There is so much knowledge in the world today on the subject of health, that no one ought to be sick any more; however, the fact that most people you meet are ailing in some way, proves that this knowledge is not bringing practical results.
The cause is lack of system; therefore, if we can formulate all of this knowledge into a complete working system, and we can, we shall then have the privilege of rendering a great service indeed.
We all agree that it is everybody's privilege to have perfect health, and when we study the subject carefully we must admit that it is possible for everybody to secure perfect health.
Yes, there are no incurable diseases.
So, if you are interested in developing that "complete working system", and are intrested in establishing perfect health, then this is the book for you.
You might like to explore the 4-D "Revised Thought-Forces"

The Fourth-Dimensional Approach to Personal Transformation (Health, Wealth, Success, Longevity,
and Transformation,
etc) is a blending of 19th Century "New Thought" principles and 21st Century "Non-Nihilistic Esoteric Existentialism".
The materials are revised and converged through radionic channeling into
Lessons
and Applications for the 21st Century seeker of light, life, and truth. Consequently, the presented audio texts/programs are developed through, and in concert with, the collective-consciousness and are reproduced verbatim. T
here are both audible and subliminal voices, under nature and music ambience, to guide your ability to achieve all that you want - Health, Wealth, Success, and Longevity.