B2008 - The Power of Thought - Hamblin
Store
> Store Items > Books > Vintage
This Text is produced as a Zipped
pdf
file,
for which a Download Link is given Following Purchase
Public Domain Note
This item has been compiled from material in the United States Public domain.
Consequently, the item's actual content is free;
and any price tag relates to the
cost of gathering, reconstructing, editing, and the online storage of the item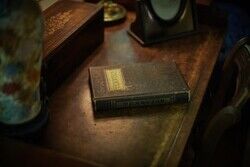 Vintage Books
The Power of Thought - Henry Thomas Hamblin - 1920 (pdf download)
Immediate availability
Add
Description
The Power of Thought, by

Henry Thomas Hamblin,

has been called, the Secret of The Secret.

The power of thought, often referred to as "thought-force", is an amazing energy which mankind has at their disposal.

The world today, in its present state, is simply the result of mankind's collective thinking; each nation is in its present state of either peace and prosperity, poverty, murder and anarchy, is simply the result of its collective thinking as a nation; and each individual's quality of life is simply the result of their individual thinking.



What a person thinks is the mainspring of all their actions.



Thus, the power of thought can make the unsuccessful successful in the battle of life.
It is the power by which we can make the loftiest achievement possible. It is the power by which difficulties can be overcome, disadvantages of birth and parentage surmounted, and the life beautified and inspired and energised with God-given powers achieved.
In this book, Hamblin shares with the reader his experiences and insights into the true nature and power of thought and thought-force.

And it is hoped that the insights, contained herein, will assist the reader to come into harmony with the Divine Idea.
And when this is accomplished, life will blossom like the rose, and he shall be led forth with peace; the mountains and the hills shall break before them into singing, and all the trees of the field shall clap their hands.

You might like to explore the 4-D "Revised Thought-Forces"

The Fourth-Dimensional Approach to Personal Transformation (Health, Wealth, Success, Longevity,
and Transformation,
etc) is a blending of 19th Century "New Thought" principles and 21st Century "Non-Nihilistic Esoteric Existentialism".
The materials are revised and converged through radionic channeling into
Lessons
and Applications for the 21st Century seeker of light, life, and truth. Consequently, the presented audio texts/programs are developed through, and in concert with, the collective-consciousness and are reproduced verbatim. T
here are both audible and subliminal voices, under nature and music ambience, to guide your ability to achieve all that you want - Health, Wealth, Success, and Longevity.