B2009 - Eight Pillars of Prosperity - Allen
Store
> Store Items > Books > Vintage
This Text is produced as a Zipped
pdf
file,
for which a Download Link is given Following Purchase
Public Domain Note
This item has been compiled from material in the United States Public domain.
Consequently, the item's actual content is free;
and any price tag relates to the
cost of gathering, reconstructing, editing, and the online storage of the item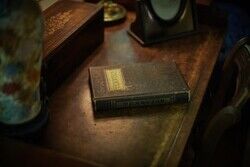 Vintage Books
Eight Pillars of Prosperity - James Allen - 1911 - (pdf download)
Immediate availability
Add
Description
The Roof of Prosperity is supported by the following Eight Pillars which are cemented in a foundation of Moral Consistency:

1. Energy
2. Economy
3. Integrity
4. System
5. Sympathy
6. Sincerity
7. Impartiality
James Allen, one of the most popular writers in the fields of inspiration at the turn of the 20th century, asks:
What makes for prosperity? On what principles is a successful life or business built?

In this work, Eight Pillars of Prosperity, which was first published in 1911, Allan explains his belief that "

prosperity rests upon a moral foundation

," one grounded by the pillars of Energy, Economy, Integrity, System, Sympathy, Sincerity, Impartiality, and Self-Reliance.

In illuminating these principles, Allen hoped to contribute to "

the prosperity of the mass of mankind.

"

If worldly success continues to elude you, then this may be the book for you.

James Allen (1864-1912), was known as the man who "

retired from the business world to pursue a life of writing and contemplation.

"
You might like to explore the 4-D "Revised Thought-Forces"

The Fourth-Dimensional Approach to Personal Transformation (Health, Wealth, Success, Longevity,
and Transformation,
etc) is a blending of 19th Century "New Thought" principles and 21st Century "Non-Nihilistic Esoteric Existentialism".
The materials are revised and converged through radionic channeling into
Lessons
and Applications for the 21st Century seeker of light, life, and truth. Consequently, the presented audio texts/programs are developed through, and in concert with, the collective-consciousness and are reproduced verbatim. T
here are both audible and subliminal voices, under nature and music ambience, to guide your ability to achieve all that you want - Health, Wealth, Success, and Longevity.