B2010 - How To Make Money - Austin
Store
> Store Items > Books > Vintage
This Text is produced as a Zipped
pdf
file,
for which a Download Link is given Following Purchase
Public Domain Note
This item has been compiled from material in the United States Public domain.
Consequently, the item's actual content is free;
and any price tag relates to the
cost of gathering, reconstructing, editing, and the online storage of the item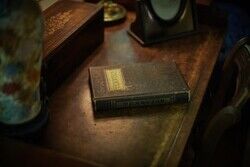 Vintage Books
How To Make Money - B F Austin - 1918 - (pdf download)
Immediate availability
Add
Description
B F Austin said that

The purpose of these lessons, How to Make Money, is to raise the mental and spiritual vibrations of the student to inspire hope, faith and courage, to awaken larger thought within the mind, inspire greater plans and purposes, and awaken the dormant energy in the life to fire the enthusiasm and call into active service hidden talent which the student, possibly, does not dream at his present stage of unfoldment, that he possesses.


In short, our purpose is to awaken men from mental slumber, to show the unlimited resources in human nature, the unseen yet open doors to mental wealth first, then as a natural sequence to wealth in material conditions, and thus enlarge and ennoble the life as well as add to its material expressions.

The purpose of the true teacher, who is ever the true physician as well, must always be the "more abundant life" of which the Nazarene spoke and taught.

To disclose that life, abounding life, in all its fullness and beauty and to point out the laws by which it is gained, with wealth as a natural sequence, is the purpose of the Three Lessons on which we are entering.
You might like to explore the 4-D "Revised Thought-Forces"

The Fourth-Dimensional Approach to Personal Transformation (Health, Wealth, Success, Longevity,
and Transformation,
etc) is a blending of 19th Century "New Thought" principles and 21st Century "Non-Nihilistic Esoteric Existentialism".
The materials are revised and converged through radionic channeling into
Lessons
and Applications for the 21st Century seeker of light, life, and truth. Consequently, the presented audio texts/programs are developed through, and in concert with, the collective-consciousness and are reproduced verbatim. T
here are both audible and subliminal voices, under nature and music ambience, to guide your ability to achieve all that you want - Health, Wealth, Success, and Longevity.